Home
Published: Wednesday, 15 June 2016

The SBIR 16.2 and STTR 16.B Solicitations will close Wednesday, June 22 at 6:00 a.m. ET.
Per the SBIR, please submit your proposals as early as possible in order to avoid any high volume during the final hours. All submissions must be made through their official submission portal: https://sbir.defensebusiness.org/.
If you were not able to participate during this solicitation, 16.3 and 16.C will Pre-Release on August 26, 2016.
For any questions or concerns you may have about the submission process, contact their Help Desk M-F, 9 a.m. - 6 p.m. ET at 1-800-348-0787 or This email address is being protected from spambots. You need JavaScript enabled to view it..
Published: Tuesday, 01 March 2016
CFDA Number : 84.103A
Program Type : Discretionary/Competitive Grants
Also Known As: TRIO Staff Training (This is one of eight TRIO programs.)
Program Description 
Through a grant competition, funds are awarded to institutions of higher education and other public and private nonprofit institutions and organizations to support training to enhance the skills and expertise of project directors and staff employed in the Federal TRIO Programs. Funds may be used for conferences, seminars, internships, workshops, or the publication of manuals. Training topics are based on priorities established by the Secretary of Education and announced in Federal Register notices inviting applications.
Email here for more information on the This email address is being protected from spambots. You need JavaScript enabled to view it.!
---
Program Office: Rehabilitation Services Administration (RSA)
CFDA Number: 84.235
Program Type: Discretionary/Competitive Grants, Contracts, Cooperative Agreements
Also Known As: Special Projects and Demonstrations
Program Description 
This program provides competitive grants to eligible entities to expand and improve the provision of rehabilitation and other services authorized under the Rehabilitation Act. Funding also is provided to further the purposes and policies of the act. More specifically, the program supports activities that increase the provision, extent, availability, scope, and quality of rehabilitation services under the act. Sec. 303 authorizes support of activities serving individuals with disabilities in an array of project types. These diverse projects may include effective practices that demonstrate methods of service delivery to individuals with disabilities, as well as such activities as technical assistance, systems change, model demonstration, special studies and evaluations, and dissemination and utilization of findings from successful, previously funded projects. Such expansions and improvement of rehabilitation and other services will lead to more employment outcomes for individuals with disabilities.
Email here for more information on the This email address is being protected from spambots. You need JavaScript enabled to view it.!
---
Program Office: Rehabilitation Services Administration
CFDA Number: 84.128J
Program Type: Discretionary/Competitive Grants, Cooperative Agreements
Program Description
This program provides individuals with disabilities inclusive recreational activities and related experiences that can be expected to aid them in their employment, mobility, socialization, independence, and community integration. Project periods last three years and the federal share of costs is 100 percent in year 1, 75 percent in year 2, and 50 percent in year 3. Projects must maintain, at a minimum, the same level of services over the three-year project period and assure that the service program awarded will be continued after the federal assistance ends. 
Email here for more information on the This email address is being protected from spambots. You need JavaScript enabled to view it.!
Published: Wednesday, 13 January 2016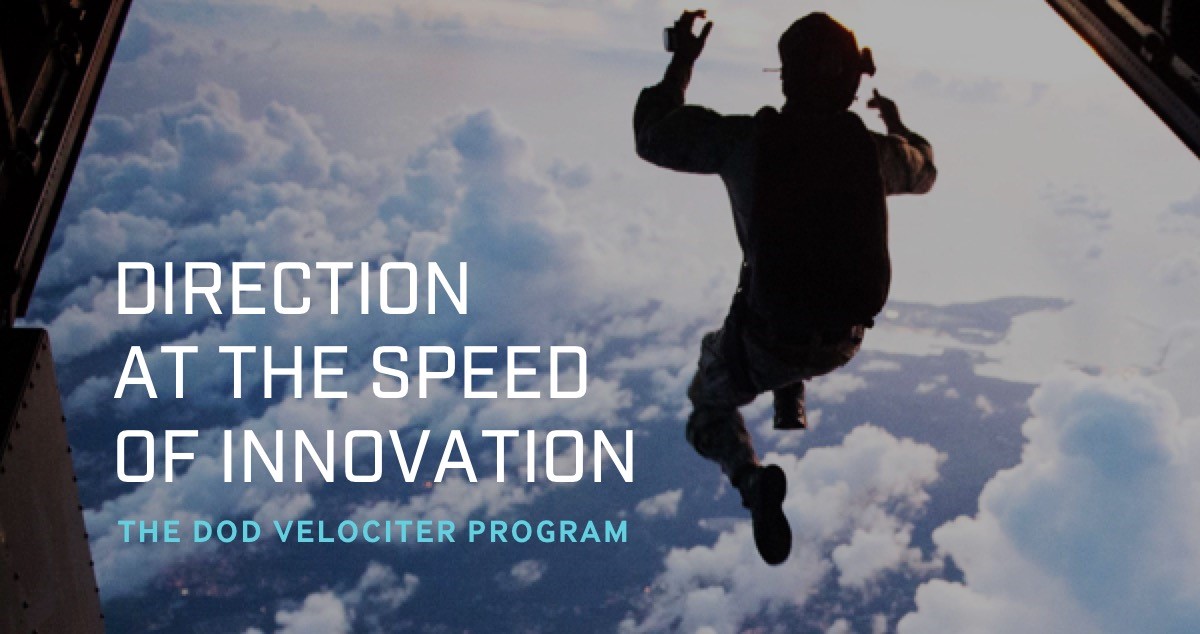 HELPING SMALL BUSINESSES COMMERCIALIZE & TRANSITION
The mission of the Velociter program is: "To support the rapid transition and commercialization of DoD SBIR/STTR technology throughout the lifecycle of the SBIR/STTR programs by enhancing relationships with PMs/PEOs, industry and academia and creating an industrial technology base that is responsive to the warfighter and market needs."
REMINDER: the deadline of December 16, 2015 - January 15, 2016 for the Velociter Program Application Period (open to small businesses with current SBIR/STTR Phase II contracts or small businesses with an SBIR/STTR Phase II contract that ended between January 1, 2013 and December 31, 2015) is fast approaching!
YOU ONLY HAVE 3 (THREE) DAYS LEFT - so get your apps in NOW!
Opportunity Analysis
Subject matter experts will help your team identify commercialization and transition opportunities while setting realistic goals and milestones.
Matchmaking
Participants will have the opportunity to access PMs, PEOs, and industry matchmaking sessions at the Beyond Phase II Conference.
Business Mentorship
Your assigned consultant will work with you to improve your business plan and your commercialization strategies.
Tech Showcase
Selected graduates will have the opportunity to present to peers, investors, buyers, and integrators at the Beyond Phase II Conference.
Marketing Sessions
A team of specialists will conduct virtual meetings with members of your team to review your marketing plan and materials.
For any questions, please send an e-mail to: This email address is being protected from spambots. You need JavaScript enabled to view it. or This email address is being protected from spambots. You need JavaScript enabled to view it. or call 800-348-0787.
Published: Tuesday, 12 January 2016
The Department of Defense SBIR 16.1 & STTR 16.A Solicitations are Open for Proposal Submission on January 11, 2016!
If applying, you may now submit your Phase I and Direct to Phase II proposals for the SBIR 16.1 and STTR 16 The DoD will accept proposals for this solicitation up to and no later than 6:00 a.m. ET on Wednesday, February 17, 2016.
If you have not yet started your proposal - you need to get working on it NOW! For help, contact us at This email address is being protected from spambots. You need JavaScript enabled to view it.!